About RoadX
Company Information
The RoadX brand is founded upon three core values. Quality products, a team you can Trust and systems to Support our customers. RoadX product quality is equal to that of national brand competitors and represents the cumulative efforts of a global team of tire engineers. Our support systems are unparalleled to better serve our customers. RoadX tires are manufactured in state of the art facilities under a high standard of excellence. At RoadX, our mission is to earn your trust as a valued partner within the tire industry.
SMARTWAY
Verified Technologies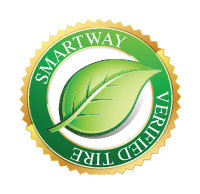 EPA SMARTWAY® VERIFIED TECHNOLOGIES
The EPA has determined that certain tire models can reduce NOx emissions and fuel use by 3 percent or more, relative to the best selling new tires for line haul trucks, when used on all five axles on long haul Class 8 trucks [1].
SmartWay® Verified Technologies, developed by the United States Environmental Protection Agency, is a public / private collaboration between the USEPA and the freight transportation industry that helps freight shippers, carriers, and logistics companies improve fuel-efficiency and save money.